Here we go again. The music business is gently ushering itself back into action following some much-needed Holiday respite.
But what does 2023 hold in store for the industry and its key players?
Well, to be completely honest with you, we don't exactly know. How on earth could we?
(That's one of the key flaws, isn't it, about this wonderful industry? Amongst its many, many attributes: Too many people pretending they know what couldn't possibly be known about the future of the music business, when the future of the music business has shown itself – time and time again – to be one of the least predictable things in the commercial universe.)
Anyway, here's what we do know. We do know that the following five stats really set the scene for some of the standout happenings, tensions, and hopes of the music biz in 2023.
And we do know that you're probably going to be better armed for whatever this year throws at the music rights industry if you understand why each of them is so important…
---
1) 5%… and what is a superstar?
You may remember this one from last year, but it's most certainly worth revisiting.
According to Warner Music Group, back in 2012, its Top 5 biggest global superstars generated 15% of the company's annual recorded music (physical and digital) revenue. A decade on, in 2022, that year's Top 5 superstars at Warner generated just 5% of equivalent revenue.
MBW did the math on that figure: According to our estimates, the amount of money generated by the Top 5 superstars in each of these years actually fell – in real numerical terms – from 2012 to 2022 (see chart below), despite Warner's overall recorded music (physical & digital revenue) more than doubling during the same timeframe.
Why it matters: Through one lens, this is a story about Warner Music Group, and how its new CEO, Robert Kyncl, will reposition WMG amid the shifting dynamics of the 'superstar economy'. Yet there's a trend that's bigger than WMG going on here: The atomization of royalty revenue amongst a far wider pool of top-tier artists – whether via streaming's globalization of listening, or via the rise of the so-called 'middle class' of artists – has chomped into royalty earnings that were once the exclusive preserve of worldwide pop icons. It's not a stretch to suggest that Universal Music Group's recent re-launch and investment in its global artists and label services division, Virgin Music Group, plus the rampant success of Sony Music's The Orchard in recent years both also nod towards this trend.
The big question it asks: If superstars are only generating 5% of a major record company's revenue today, what happens when that number sinks to 2% – or below 1%? At that point, what even is a 'superstar'?
---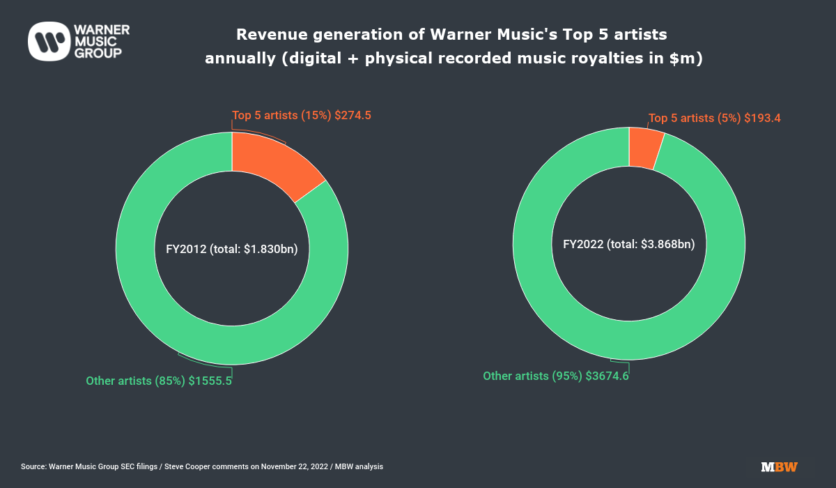 ---
2) $1 billion… and the fallacy that "the labels are taking all of Spotify's money"
MBW has received quite the reaction to a piece we published the other day pointing out that Spotify is now worth somewhere around a third of Universal Music Group in terms of market cap value – after the two companies were worth roughly the same amount a year prior.
Much of that reaction has taken the same tone. As one US executive put it in a text to MBW today: 'How the F- are Spotify supposed to grow their value when the major labels take all of their profit??!!'
Excitable grammatical flourishes aside, this sums up a thesis that is widely shared over music industry dinners worldwide, and for good reason: According to Spotify's Q3 2022 results (the last to be announced), the company spent 75.3% of its EUR €3.04 billion in revenue that quarter on 'cost of revenue' – a category primarily comprised of royalty payments to labels and publishers.
However, look a bit deeper and this story gets more nuanced.
Q3 2022 was a milestone quarter for another reason: Spotify spent an all-time high of EUR €978 million on operating costs in the three months to end of September, across three sub-categories: 'Research and Development', 'Sales and Marketing', and 'General and Administrative'. That means Spotify spent comfortably over USD $1 billion on operating costs in a single quarter.
Much of that $1 billion-plus operating expenditure in Q3 would have gone on staff: In 2021 (the last year for which Spotify has published an annual report), SPOT employed 6,617 people on average, a figure that was up by over 1,000 YoY.
Why it matters: Spotify-focused analysts expressed disappointment over the company's gross margin performance throughout 2022, despite an impressive performance when it came to subscription revenue. Related: in Q3, Spotify posted a quarterly operating loss of €228 million. Spotify's spending on Sales and Marketing in particular has long been quietly questioned by its music rightsholder partners (lest we forget that Universal Music Group continues to own around 3.4% of Spotify, according to UMG's 2021 annual report). That Sales and Marketing cost shot up to nearly half a billion US dollars (EUR €432m) in Q3 2022.
The big question it asks: Largely thanks to analyst disappointment over that gross margin impacting on share price, Spotify is currently only worth about $15 billion on the New York Stock Exchange. If it doesn't improve its gross margin soon, could it become an acquisition target for a tech giant in 2023? (Speaking of which, just for fun: Imagine Twitter buys it tomorrow. What's the first thing Elon Musk does?)
---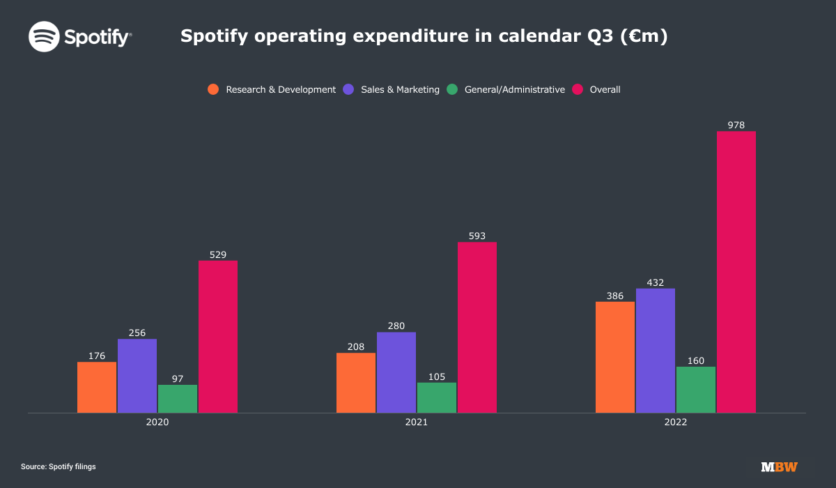 ---
3) 100,000… and the battle to define 'premium' music
It's a number that's already worked its way into music business lore (MBW was first to report it, naturally): Over 100,000 tracks are now being uploaded to streaming services globally.
That's according to two of the major music companies, who are, it's fair to say, starting to become rather concerned about the impact this tidal wave of distributed music (music of it coming via the likes of DistroKid and Tunecore) is having on their streaming market share.
"Ever since we had 99 cent downloads, there's been a tendency for music to be priced the same. And we all know that all music isn't equal."
Over the past 12 months, we've seen comments from the likes of Rob Stringer (Chairman, Sony Music Group) and Sir Lucian Grainge (Chairman/CEO, Universal Music Group) hinting at a hope to one day see certain types of music valued higher – in royalty terms – than other types of music. Particularly, in Stringer's words, the 31-second "flotsam and jetsam" tracks that clog up sleep/relaxation/rain-sounds playlists on Spotify and other services, but which get paid the same per play as, say, A Day In The Life.
Steve Cooper, the outgoing CEO of Warner Music Group, gave a memorable take on this debate in an interview with MBW at the close of last year. He said: "[In] the live music space, the price varies depending on who you're seeing and what your experience is. I think the recorded music space needs to be more like that. Ever since we had 99 cent downloads, there's been a tendency for music to be priced the same. And we all know that all music isn't equal."
Why it matters: The three major record companies plus Merlin cumulatively had a 77% share of music streams on Spotify in the year 2021, according to SPOT's annual report that year. That 77% figure was down by a full 10% on the 87% they counted in 2017. The influx of 100,000 tracks a day to services like SPOT will surely only dilute that market share yet further.
The big question it asks: To the best of our knowledge, the now-infamous 100,000-tracks-a-day stat is in reference – at least in the large majority – to human-made music. What happens when AI music-making platforms start spitting out thousands of Dua Lipa / Justin Bieber / Travis Scott clones every 24 hours too? Won't the majors be highly concerned that Tencent Music is already making thousands of its own tracks with AI vocals? And that TikTok bought its own AI music company, Jukedeck, the other year?
---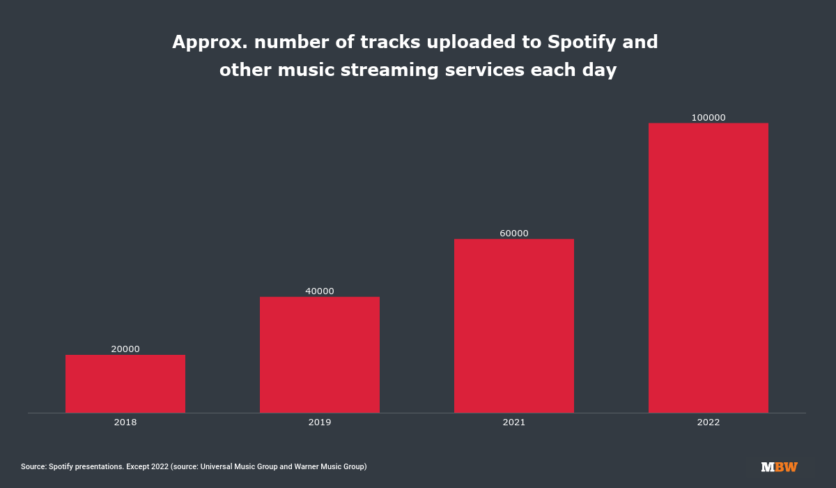 ---
4) 25%… and the hunt for TikTok's revenues
Universal Music Group is not a company that struggles for profitability. In 2021, the company's annual adjusted EBITDA soared above USD $2 billion. In 2022, it will grow even higher (we'll find out when UMG publishes its Q4 2022 results soon).
For any typical investor, figures like these would instantly translate into happy days. But shortly before UMG went public in Amsterdam in 2021, at a Capital Markets Day in August that year, UMG made a pledge to the markets: it expected to reach a 'mid-twenties' EBITDA in its 'mid-term outlook'. In other words, UMG's EBITDA margin would touch 25% at some point over the next few years.
The company currently has a way to go to get there: In the nine months to end of September last year, UMG's adjusted EBITDA margin stood at 20.5% vs. 21.5% in the same nine months of 2021.
With the level of quality of leadership Universal has at the top of its company – not to mention 'encouraging' activist investors like Bill Ackman – you wouldn't bet against UMG hitting that 25% EBITDA margin goal in good time.
The bigger talking point (and why this 25% stat is so relevant to how 2023 plays out) is precisely where Universal finds the commercial propulsion it requires to bump up that margin to its target figure.
Against the odds, 2022 was a great year for subscription streaming revenue growth: Partly thanks to continued growth in the number of subscribers globally, and partly thanks to some smart price rises, Spotify saw its biggest ever YoY growth in subscription revenues in the first nine months of a year in 2022 (+$1.37bn YoY).
Further price rises from the likes of Spotify will continue to pump new oxygen into the subscription streaming story for rightsholders. But Universal will also know that key markets like the US and UK are fast becoming fully matured streaming markets (i.e. the hopes for finding new sources of subscribers each year in these territories is naturally getting smaller).
Why it matters: If subscription streaming isn't going to provide UMG with the commercial oomph to hit its EBITDA targets, substantial new revenue will likely have to be generated elsewhere. Which leads us on to our final stat here, and the following query…
The big question it asks: The major music rightsholders, Universal included, appear to feel that they are not currently receiving sufficient monetary return from short-form video platforms – namely TikTok. Much of this, it's thought, is because TikTok continues to pay rightsholders via two-year 'buyout' deals, rather than via a direct share of advertising revenue based on consumption of these companies' music. Can we now expect pressure to continue to mount on TikTok from Universal (and other majors), as UMG seeks sources of accelerated revenue to plump up that EBITDA margin during the remainder of the 2020s?
---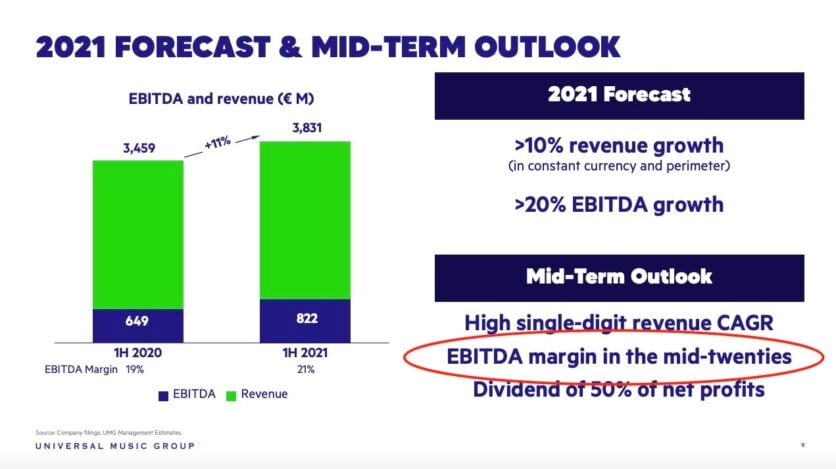 ---
5) 12.1 billion… and the hunt for TikTok's revenues
This one is on a similar theme to No.4 above, but from a different angle.
This morning (January 4), the UK's trade body for the major record companies – the BPI – issued new stats reflecting how the British market had performed in 2022.
One of those stats especially caught MBW's eye: There were 159.3 billion on-demand audio streams, said the BPI, of music in the UK last year.
First, the good news: That figure represented year-on-year growth of +12.1 billion, which was a bigger YoY margin of growth than we saw in 2021 (+7.9bn).
However, 2022's increase was still under half the size of the YoY growth in UK streaming consumption seen in 2020 (+25.1bn), and around half the size of the YoY margin we saw in each of 2019, 2018, and 2017 (see below).
---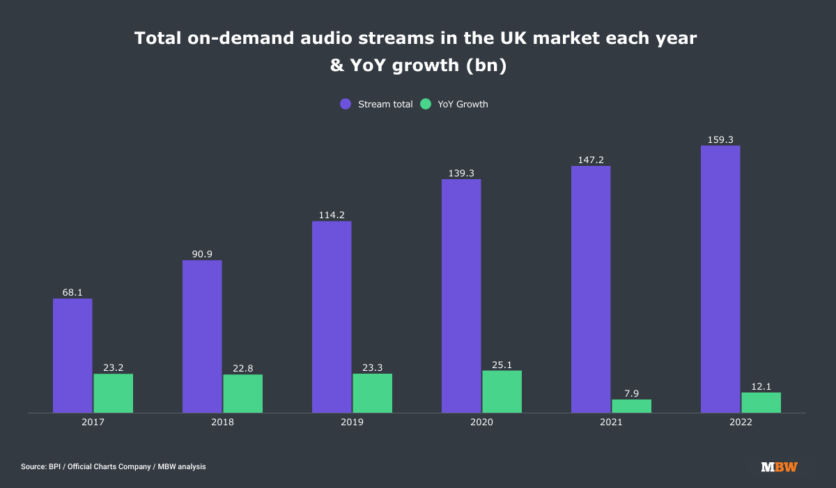 ---
Why it matters: It seems likely that consumption growth in on-demand audio streaming is, inevitably, starting to plateau in mature streaming markets. (Spotify launched in the UK back in 2008; it took another three years to reach the US.) The big concern for music rightsholders would be to see that annual audio streaming consumption figure begin to decline in the years ahead – especially if it's because Gen Z is too busy playing short-form video to listen to stream music at the same rate as the previous generation.
The big question(s) it asks: If audio streaming does now plateau – or even start to decline – in mature markets, and the appeal of short-form video plays a material role, will the music industry have the right deals in place with TikTok et al for optimum commercial benefit? What do those deals look like? And will 2023 become the crucial year where they are set in stone once and for all?Music Business Worldwide