Google's Pixel 6 and 6 Pro were two of the most leaked smartphones of 2021, and now everyone officially knows what to expect from both devices and their new cameras.
After a ho-hum iterative update last year with the Pixel 5, consistent leaks pointed to not only a newer look, but also entirely different camera modules for the Pixel 6 lineup, suggesting the company is taking a shot at trying to be the best in the business. Google confirmed today much of what was previously revealed.
A Newer, Refined Look
Google joined the "bump" party by making its own stand out on the back of both the Pixel 6 and Pixel 6 Pro. While more about the cameras will come below, the rear definitely looks snazzier than the Pixel 5, despite the extra girth, though the Pixel 5 also had a standard design that wouldn't have been hard to improve upon.
On the front, the Pixel 6 Pro has a 6.7-inch AMOLED display (3120 x 1440) with a variable 10-120Hz refresh rate for smoother navigation. The Pixel 6 has a 6.4-inch AMOLED (2340 x 1080) with a refresh rate that maxes out at 90Hz.
The big change is also on the inside with Google's own Tensor processor powering both devices, marking the first time a Pixel phone won't run on a Qualcomm chipset. It is a system-on-a-chip (SoC) that Google claims will play a more impactful role on how well the cameras perform, especially with rendering and machine learning to power the latest features.
Other key specs that stand out are upgrades in both storage and memory. The Pixel 6 and 6 Pro will come in 128GB, 256GB, and 512GB configurations, with 12GB of RAM no matter which variant customers go with. The 6 Pro's battery is also significantly bigger at 5,000mAh, which is important if buyers are going to hang onto the phone for all-day photos and video. Meanwhile, the Pixel 6 will have a 4,600mAh battery.
Cameras Get An Overhaul
The rear and front cameras, as far as hardware goes, bear no resemblance to the Pixel 5. New image sensors, new lenses, new camera array, and new software working in the background. The Pixel 6 Pro is the more advanced of the two, with a 50-megapixel primary wide shooter with optical image stabilization anchoring the rest of the system. It's not yet clear which exact sensor Google is using, but it did confirm it measures 1/1.3" in size. Google says it will also use pixel binning to produce 12.5-megapixel images in Night Sight, with larger 2.4 Micro pixels that it claims can bring in 150% more light than the Pixel 5 could.
A 48-megapixel ultra-wide camera comes with a larger image sensor, also capable of shooting video in 4K at 60fps. The 12-megapixel telephoto has 4x optical zoom through a prism design, and Google claims it can mix the optical and digital zooms to produce industry-leading shots at 20x. The Pixel 6 won't have the telephoto lens, but otherwise retains the other camera specs.
In addition, the company says it improved output for a wider variety of skin tones through a computational algorithm it calls "Real Tone." It's supposed to improve face detection, white balance, and exposure, as well as deliver the best rendering, richness, and detail for people of color.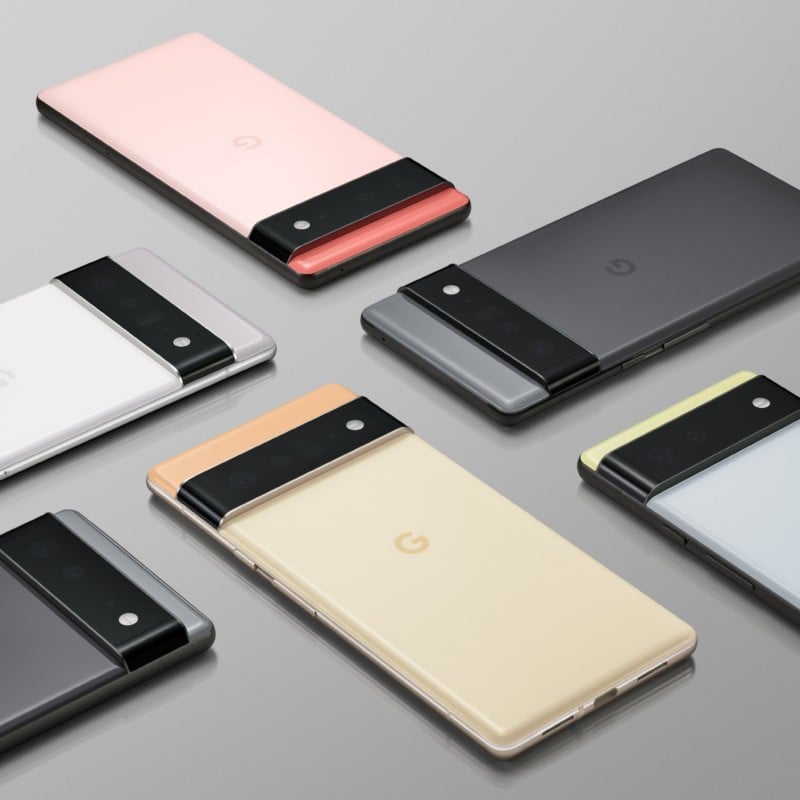 New Modes to Shoot With
Google is also finally catching up to what some competitors have been offering already. Motion mode will be a new way to capture movement in the background while keeping the foreground subject still. For example, the company showed an example of a cyclist riding on an indoor track, where he was in focus, while the background blurred as if it was done with a slower shutter speed and higher aperture. It's not clear how well such a mode will do with moving objects, but it seems the software works to maintain a subject in focus while using the same method it does for Portrait mode to blur the background. Until testing can be performed, this is just speculation.
Speaking of long exposures, that is also a complementary mode that photographers will be able to shoot with. It doesn't appear to be all that different from similar modes already available on phones like the Vivo X70 Pro+, but may deliver better results. One thing that is evident is that photographers won't be able to control the length of the exposure.
Google also won't put a pro or manual mode in either Pixel 6 device, as the company continues to focus on letting its computational software handle everything. Photographers can still shoot in RAW in just about every mode, but there is no way to manually adjust basics, like ISO, shutter speed, and white balance. The shadow and exposure compensation sliders are still there, though it's not clear if they offer better dynamic range this time.
Another new feature is Magic Eraser, which is not a shooting mode, but rather an editing feature exclusive to Google Photos where photographers can remove unwanted portions of an image they shot with either Pixel 6 phone. Google says results will vary, as it depends on what's being removed, and how much detail is in the image.
Google will launch both phones on October 28. The Pixel 6 will start at $599 while the Pixel 6 Pro will start at $899.
Google Launches the Photography-Focused Pixel 6 and Pixel 6 Pro