Photographer and filmmaker Will Ferguson has shared how he took his passion for long exposure light painting to the next level with the help of a drone and a small LED light.
Ferguson, based in the United Kingdom, has held an interest in long exposure photography from a young age. He first started with more traditional shots of cars driving along a motorway at night and has since progressed to technically more advanced photos.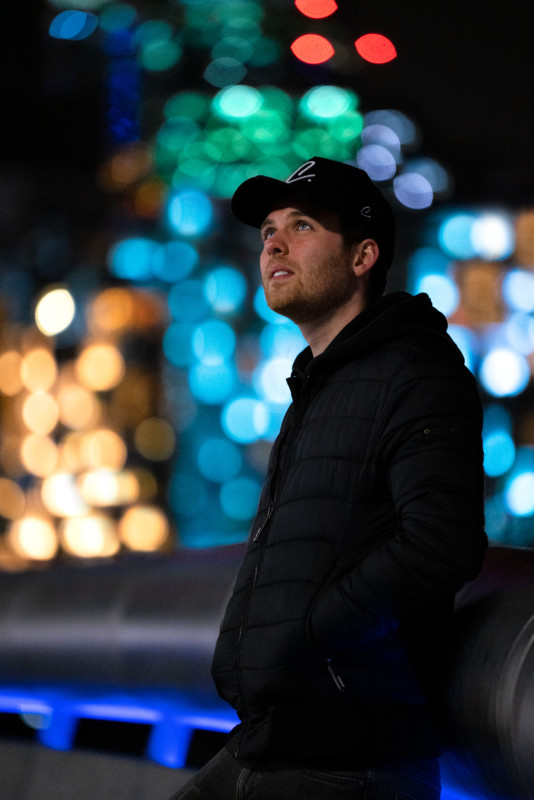 His latest experiments involve light painting a halo into images using his drone and a safely attached small but bright LED light. It has allowed him to combine his love for light painting and drones into one. It also hasn't gone unnoticed on social media, with his behind-the-scenes TikTok videos attracting interest and amassing over a million views.
The photos are similar in style and likely influenced by those made by Reuben Wu, who uses drones to create eye-catching light-painted scenes.
Ferguson explains that the most difficult part of taking a photo like this is to achieve the correct amount of brightness. A balance is needed to ensure the drone LED properly lights up the subject of the photo without under-exposing the stars in the night sky. Also, the size and speed of the drone need to be taken into consideration to match the length of time the camera requires to take a correctly exposed image.
In the behind-the-scenes videos, Ferguson demonstrates how he created the two shots, using his Sony a7R III, DJI Mavic 2 Pro drone, and LumeCubes.
Ferguson makes a point that it is crucial to take the necessary steps to safely fly a drone at night. Although in the United Kingdom it is legal to fly a drone at night within the Civil Aviation Authority laws, he makes sure to do a pre-flight check of the location during the day. This way, he can ensure there aren't any safety hazards, such as electrical pylon wires or tree branches, which may go unnoticed in the dark.
So far, Ferguson has picked St. Michael's Tower which sits on top of Glastonbury Tor in the English county of Somerset, and a tall tree in a park as his subjects. He tells PetaPixel that tall tower-like structures do particularly well for this method of shooting because the LED light helps to illuminate the subject and create a magical yet eery look.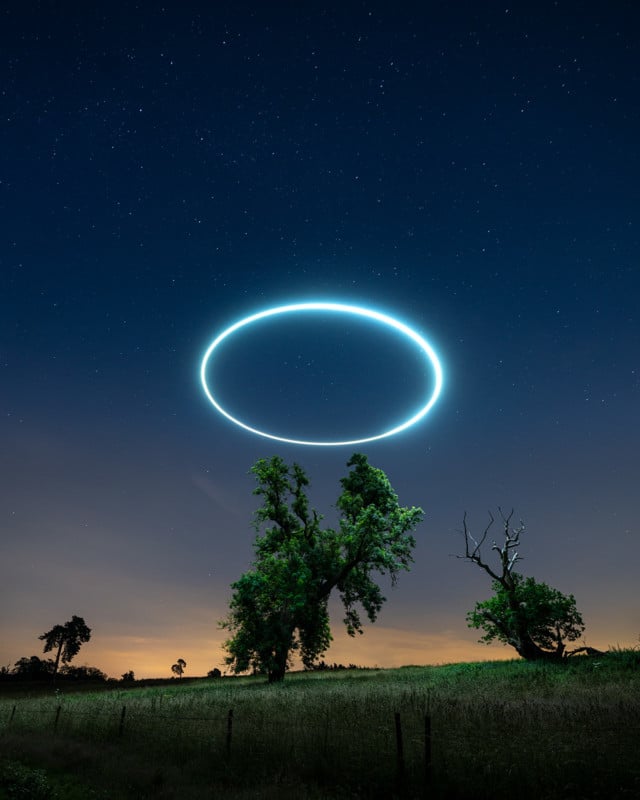 Although this was a passion project for Ferguson, the interest he received from the community on social media has not only helped him educate and inspire other creatives but he has also received interest from brands who want to collaborate in the future.
"You create your own luck," he says, hoping to inspire others to share their work with the world.
Ferguson plans on shooting more drone halos in the future because this type of light painting photography helps him create something that the audience can only witness from a long-exposure photograph.
"I think this is why I am so drawn to the magic of light painting," he says.
More of Ferguson's work can be found on his website and Instagram page.
---
Image credits: All images provided courtesy of Will Ferguson and used with permission.
How This Photographer Creates His Light Painted Halo Long Exposures