Music companies are jumping into the virtual-artist space in a big way.
The three majors – Sony Music, Universal Music Group and Warner Music Group – have all invested in virtual artist projects, but they are hardly the first.
The trend really began in Japan and Korea as far back as the 1990s, but back then, the technology was experimental, expensive and – maybe most importantly – audiences may not have been ready for virtual singers and bands, represented by cartoons or avatars and with no presence in the real world.
All that seems to be changing today, with social media sites often acting as incubators for a new generation of virtual artists.
Polar, created by TheSoul Publishing, boasts 1.9 million followers on TikTok. Lil Miquela, the brainchild of music producer Trevor McFedries and tech entrepreneur Sara DeCou, has 2.8 million Instagram followers.
But the phenomenon didn't start with social media.
In fact, you can trace the history of virtual artists all the way back to the middle of the 20th Century, when Hollywood cartoon producers and comic book companies cashed in on the burgeoning rock music scene with bands like The Archies and the Grammy Award-winning Alvin and the Chipmunks.
These were fictional bands that existed in cartoons or comic strips, but they released real-life record albums, with songs written and performed by artists whose real identities were obscured behind the band's brand.
In the 1990s, innovators in Japan and South Korea took this in a new direction, creating computer-generated avatars as music performers. Japanese talent agency HoriPro created Kyoko Date, a pop singer who put out singles like Love Communication and Albatross. (In 2018, HoriPro debuted Kyoko Date's "daughter," Ayano Date, on YouTube.)
In the late 1990s, Korean software company Adamsoft unveiled Adam, a virtual singer who went on to release two albums, Genesis and Exodus.
Around the same time, Blur frontman Damon Albarn and illustrator Jamie Hewlett of Tank Girl fame came together to form what remains to this day the biggest virtual musical act so far: Gorillaz, who have racked up 33 million equivalent album sales and numerous hit singles like Feel Good Inc., DARE and Clint Eastwood.
But today, with the proliferation of generative AI technology, the virtual-artist game is changing rapidly.
While The Archies and Gorillaz feature real musicians behind avatars created by real designers, today it's possible for everything about a virtual artist – from their avatar to their compositions to their vocals – to be created with the help of AI.
And that is opening up a world of possibilities – while at the same time landing some not-entirely-unfounded worries on the minds of real-life musicians and music companies.
Are they right to be worried? At least for now, real-life musicians are holding up very well, as can be seen in Ticketmaster's latest sales numbers, showing 41% YoY growth in ticket sales in the first quarter of this year.
Still, more and more entertainment companies are investing in the world of virtual artists. Here are what some of them are up to in this field…
---

EMPIRE
San Francisco-headquartered music company EMPIRE is behind virtual R&B artist Teflon Sega, who made his debut on social media in 2018.
Since that debut, Teflon has evolved from 2D anime into a 3D avatar who lives in the metaverse.
This artist is extremely prolific; in 2019, he released a new single every week. Despite this, his debut album, Welcome to the Mourning Show, only dropped on April 28 of this year.
Maybe not surprisingly, Teflon is a huge fan of new technology, particularly web3 and NFTs. In 2022, he released a "fan-edition NFT" collection in partnership with Quincy Jones-backed NFT platform OneOf and virtual entertainment company Wave, in which Warner Music Group is an investor.
According to EMPIRE, Teflon Sega is "the number one virtual R&B singer in the world, amassing 150 million streams across DSPs."
His Instagram has 150,000 followers, his YouTube channel has 112,000 subscribers, and he has some 493,000 monthly listeners on Spotify.
---

HYBE
K-pop music giant HYBE (formerly known as Big Hit Entertainment) introduced the world to virtual artist MIDNATT this past Monday (May 15).
HYBE also released their new single, Masquerade, in six different languages – Korean, English, Chinese, Japanese, Spanish and Vietnamese – using AI vocal technology developed by Supertone, an AI voice company with a roster of AI audio products, including SVS, an "AI technology that brings life to a new voice."
Founded in 2020, and acquired by HYBE last year, Supertone says it can create "a hyper-realistic and expressive voice that [is not] distinguishable from real humans."
But that's not exactly what's happening with MIDNATT. The artist is actually the alter ego of Lee Hyun, a well-known Korean singer who was previously part of the vocal ensemble 8Eight, as well as the duo Homme.
Supertone's AI gave Big Hit Music, MIDNATT's label, the ability to replicate Lee's vocals convincingly in other languages. It was also able to alter Lee's vocals to allow Midnatt to sing in a woman's voice, Fast Company reports.
---

Kakao Entertainment
Kakao Entertainment, the entertainment subsidiary of Korean internet company Kakao, had what is arguably the year's biggest virtual-artist debut so far with the launch in January of MAVE, a virtual K-pop girl band.
As of mid-May, the band's first single, Pandora – which Rolling Stone India described as a "synthpop/trap blend" – had racked up nearly 30.5 million streams on Spotify. The YouTube video had 22 million views as of last count.
Like MIDNATT, the four members of MAVE: are multilingual, speaking Korean, English, French and Bahasa, and the vocals in Pandora jump seamlessly from one language to the next. However, as Reuters reported, the avatars aren't able to respond to prompts, and they have to rely on scripts prepared by humans.
In the four months since dropping their first single, MAVE have garnered 460,000 followers on TikTok and 212,000 followers on Instagram.
Kakao launched MAVE: through Metaverse Entertainment, a joint venture with South Korean mobile game maker Netmarble, and the K-pop group isn't Metaverse Entertainment's only foray into virtual people.
Last year, it launched RINA, a virtual character with a "free-spirited lifestyle who loves fashion and music and is passionate about what she likes." Her role appears to be primarily as a social media influencer, with 138,000 followers on TikTok and 33,000 followers on Instagram.
---
Riot Games
Perhaps surprisingly, there are fewer more successful companies producing virtual artists than Riot Games, the game maker behind League of Legends that is owned by Tencent.
They've been in the virtual artist game since 2014, when they launched Pentakill, a virtual heavy metal band. The six virtual members of Pentakill – Karthus, Kayle, Mordekaiser, Olaf, Sona and Yorick – are basically promotions for skins that can be purchased in the game.
Pentakill's biggest hit on Spotify, Lightbringer, has 37.9 million streams, and the band receives about 520,000 streams per month on the DSP.  The official audio has been viewed 36 million times on YouTube.
Riot draws on real musicians to generate Pentakill, and it doesn't keep their identities hidden. For instance, it's known that drummer Tommy Lee of Motley Crue played on Pentakill's second album, Grasp of the Undying. That album, which came out in 2017, reached number one on the iTunes metal charts.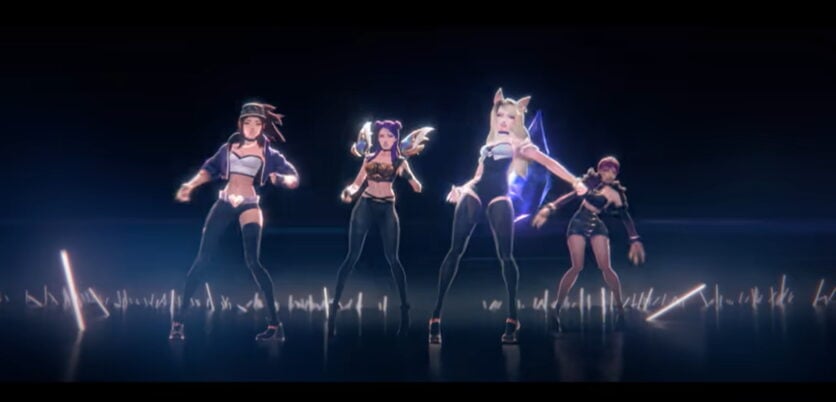 ---
Riot Games' next foray into virtual bands came in 2018, when it launched K-pop girl group K/DA at that year's League of Legends World Championship. As with Pentakill, the four K/DA members – Ahri, Akali, Evelynn and Kai-sa – are promotions for skins that can be purchased in the game.
K/DA – which is composed of singers Madison Beer and Jairan Burns, as well I-dle members Miyeon and Soeyeon – is a hugely popular group, by any standard. Their first single, Pop/Stars, has had 302 million streams on Spotify, and the band has more than 3 million monthly listeners on the platform. Several other tracks of theirs have blown past the 100-million-streams mark.
The video for Pop/Stars, on the League of Legends YouTube channel, has had an incredible 551 million views, while a more recent track, MORE, has clocked 184 million views. They have 290,000 followers on TikTok, and nearly 540,000 on Instagram.
A year after launching K/DA, Riot Games did it again, this time with a hip-hop group called True Damage. As expected, their four members – Akali, Ekko, Qiyana, Senna, and Yasuo – are skins that can be bought in-game.
The real-life musicians behind True Damage – Becky G, Duckwrth, Keke Palmer, Thutmose and Soyeon – performed a live version of their debut song, Giants, at the 2019 League of Legends World Championship, performing with holographic versions of their avatars (not unlike what Gorillaz do on tour).
Giants has garnered more than 128 million streams on Spotify, and the band has some 574,000 monthly listeners on their one track. That track is about to break 200 million views on YouTube.
---
SM Entertainment
K-pop label SM Entertainment's entry into virtual artistry has been quite unique.
Their girl group, aespa, straddles the line between real life and the virtual world: while aespa's four members are real people, each of them has a virtual alter ego, an avatar that often appears alongside the real artist in videos and promotional materials.
aespa also comes with a fictional storyline that serves as a backstory for the four members and their alter egos. And earlier this year, SM Entertainment debuted one of the virtual characters who appeared in aespa's lore – Naevis – as a virtual artist in her own right.
---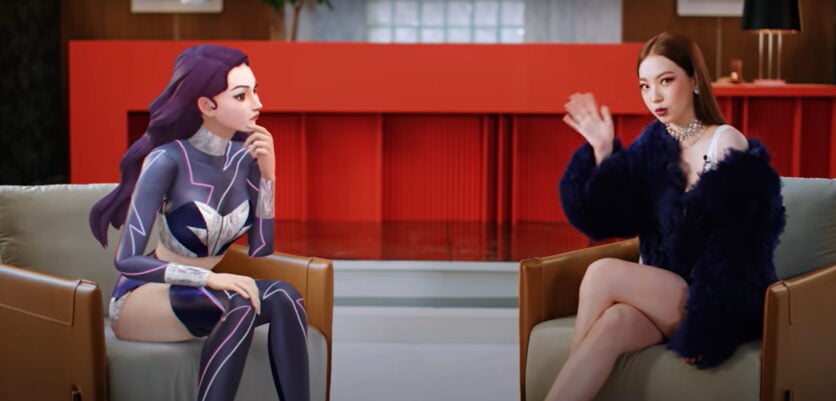 ---
Naevis, who first appeared in aespa's video My, Karina, in 2021, is described in aespa lore as an AI system that enables aespa members' virtual alter egos, known as "ae's," to contact and communicate with their real-life versions.
SM Entertainment had announced that Naevis would make her debut as a virtual artist at this year's SXSW festival.
However, it appears the debut never took place, and some fans speculate that this might have had to do with the corporate battle between HYBE and Kakao over control of SM, which was ongoing when SXSW took place this past March, and which Kakao won.
---
Sony Music Entertainment Japan
Sony Music Entertainment (Japan) which operates independently of global music giant Sony Music Entertainment, is working on two virtual entertainment projects, one of which it calls "the largest virtual talent development and management project in history."
That project is called Vee Virtual Entertainment, and the idea behind it is to develop talented Vtubers – online performers who work behind an avatar – into commercial successes.
In May of 2022, Vee unveiled its "first wave" of virtual talent – three previously unknown artists going by the names of Otokado Ruki, Tulsi-Nightmare Madness IV and Hinahoshi Airu, as well as two previously known Vtubers, Kujo Ringo and Syusetu Kohaku.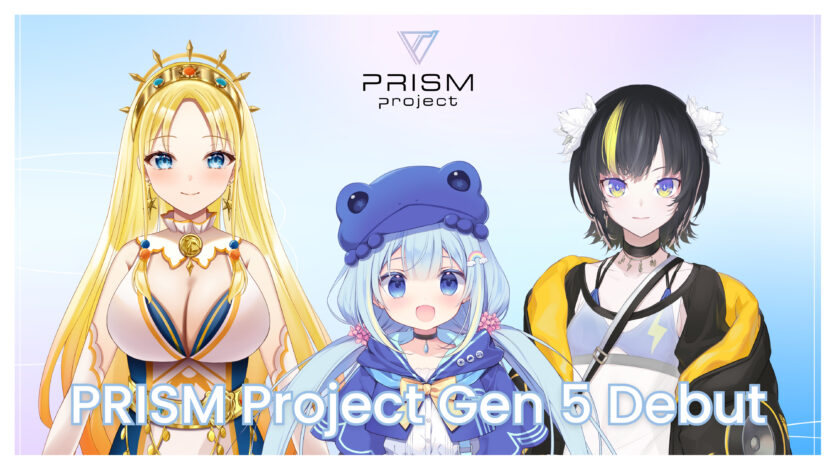 ---
So far, these artists haven't seen breakout success, with a handful of YouTube videos hitting views in the tens of thousands, and not much presence on Spotify. Their Twitter and Twitch accounts have garnered followers in the single thousands.
SMEJ's other virtual-artist endeavor is their PRISM Project, which also recruits Vtuber talent. PRISM has been building its roster aggressively, and last month announced its "fifth generation" of virtual artists – Ami Amami, Kou Tsubame and Lana Shikami.
As with VEE, so far PRISM hasn't seen a major breakout artist. Among PRISM's 15 virtual artists, the two biggest ones so far appear to be Shiki Miyoshino, with 139,000 YouTube subscribers, and Iko Hoshifuri, with 53,000 YouTube subscribers and about 7,700 monthly listeners on Spotify.
SMEJ also works with Apoki, a virtual K-pop artist that debuted in 2021.
---

Tencent Music Entertainment (TME)
TME is making big moves in the virtual artist space and in AI-generated music.
During an earnings call in November of 2022, TME Executive Chairman Cuisson Pang told analysts that the company had created more than 1,000 musical tracks using generative AI, one of which had already clocked more than 100 million streams.
The following month TME unveiled Lucy, which the company described as its first "hyper-real virtual pop idol," built by TME's in-house LyraLab.
Despite only being in existence for some six months, Lucy already has 17 singles on her account at QQ Music, one of TME's streaming services in China.
In the company's Q4 and FY 2022 earnings announcement, TME noted that, in the quarter, TME "Brought to life TME's first hyper-real virtual pop idol, Lucy, along with our other virtual performers Xiaoqin, Shanbao and Anko with original content, unique voices and dance moves".
The company added: "With a record-grade, automatically generated vocal print developed by TME LYRA LAB's LyraSinger Engine, Lucy has received partnership interest for joint performances from a broad array of global brands."
On TME's Q1 earnings call this past Tuesday (May 16), Tony Yip, TME's chief strategy officer, said the company plans to create more virtual idols with an eye to bringing them on to TME's live-streaming services.
---

Universal Music Group (UMG)
UMG stepped into the virtual artist arena in late 2021, when it announced the formation of Kingship, a virtual band based on four characters from the NFT collections Bored Ape Yacht Club and Mutant Ape Yacht Club.
The band was the creation of 10:22PM, a UMG subsidiary formed by former Sony exec Celine Joshua that describes itself as a "next-gen web3 label." Its goal is to sign artists, social media influencers and digital media creators with a focus on multimedia content.
UMG, via Universal Music Italy also 'works with' Zero Pain, a virtual artist that currently has 92,000 monthly listeners on Spotify, and whose biggest hit, PECCATO, has 2.6 million streams on the service.
Zero Pain's roughly two-minute tracks are so-called 'phonk' – a genre that's become popular on TikTok over the past few years.
One interesting innovation with Zero Pain is that the artist's music and fictional backstory is being crowdsourced on their Discord server, where fans can vote on such things as song titles, the character's backstory and even social media posts.
UMG has also been working on avatars for its existing, real-life artists. The company inked a partnership with Genies, an avatar technology company, in 2021, to "equip artists with official virtual identities for use in Web 3.0 and the shifting age of the Internet, providing a persistent virtual representation of themselves across the metaverse to engage with fans in expressive and authentic ways."
UMG's Capitol Records was also briefly involved with controversial virtual artist FN Meka, which was signed, but then ultimately dropped by the label.
---
Warner Music Group (WMG)
Back in 2021, Whet Records, WMG's pan-Asian dance label based out of China, claimed to have become the first major label to sign a virtual artist – Ha Jiang, a virtual idol that had amassed 100,000 followers on Chinese social media, appearing as a road safety ambassador and an esports anchor, among other things.
So far, Ha Jiang has released three singles and has been credited with a remix of Marvus' Drunk Groove, which is her largest hit on YouTube, with 106,000 views.
---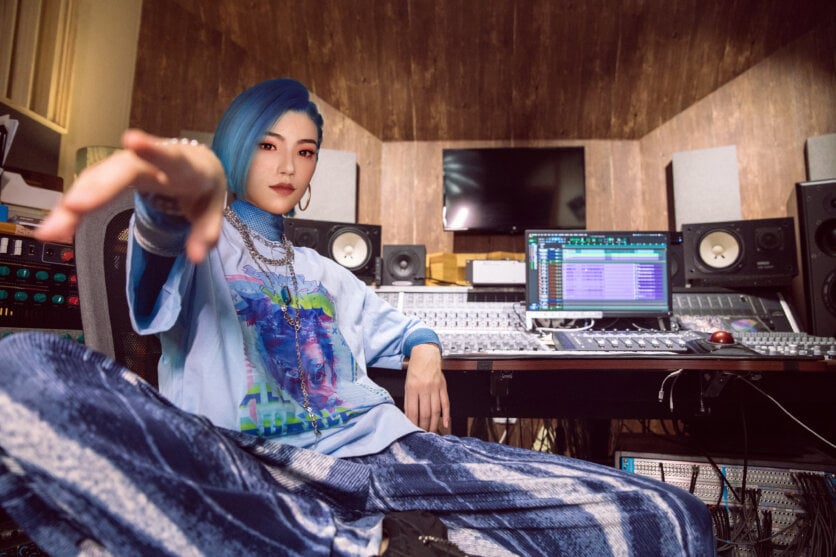 ---
But that's not WMG's only foray into the virtual artist arena. In 2022, it invested in Authentic Artists, a music platform headquartered in San Francisco that describes itself as a developer of "metaverse-native virtual artists, digital collectibles and interactive music experiences."
So far, Authentic Artists has launched 12 prototype virtual artists, among them Nayomi, DJ Dragoon, Gnar Heart and Glitch. In April of this year, the company announced the launch of a "proprietary, generative, audio-visual production platform that instantly composes and produces fully-formed, high-quality songs performed by AI-powered Virtual Artists."
Chris McGarry, founder and CEO of Authentic Artists, said: "Virtual entertainment is the new cultural center of gravity, and today's digital natives want agency over their worlds. Our adaptive artists will give it to them, co-creating new shared musical experiences and making new art and culture with fans across every connected platform."Music Business Worldwide